About Us
Nisshin Seifun Welna Inc. offers wheat secondary processed products, including premixes, pasta, pasta sauce, and frozen pasta for both the commercial- and household-use markets.
Since the very beginning of its history, Nisshin Seifun Welna Inc. has been building up trust from consumers with their guiding philosophy, "The basis of business is built on trust". Nisshin Seifun Welna Inc. has won the invaluable support from consumers and produced many goods with top domestic market shares in Japan. In recent years, we focus on expanding our offerings of high value-added health-function and convenient products.
To deliver highly fresh products around the world, we are building a global network of bases for local manufacturing and sales.
| | |
| --- | --- |
| Company name | Nisshin Seifun Welna Inc. |
| Primary business areas | The manufacture and sale of pasta, pasta sauces, premixes, flour for consumer use, heat-and-serve products, dried noodles and frozen food products |
| Head office | 25, Kanda-Nishiki-cho 1-chome, Chiyoda-ku, Tokyo, JAPANMAP |
| Director and President | Takahiko Iwahashi |
| Establishment | July, 2001 |
Overseas Business
and Locations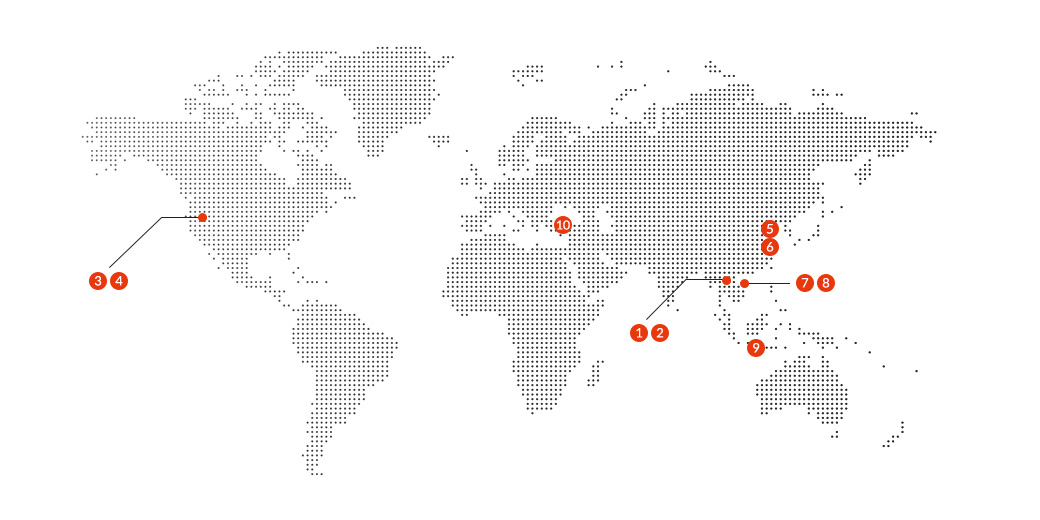 1

Bangpoo Industrial Estate, 276 Moo 4, Sukhumvit Road, Tambol Praegsar, Amphur Muang Samutprakarn, Samutprakarn 10280, THAILAND
Tel. +66-2-324-0565

2

Bangpoo Industrial Estate, 276 Moo 4, Sukhumvit Road, Tambol Praegsar, Amphur Muang Samutprakarn, Samutprakarn 10280, THAILAND
Tel. +66-2-323-0956

3

18420 50th Avenue East, Tacoma, WA 98446, U.S.A.
Tel. +1-253-846-2600

4

Food Masters (PNW) Corp.

18420 50th Avenue East, Tacoma, WA 98446, U.S.A.
Tel. +1-253-846-5230

5

No.6 CnengXi Road, Ji Mo, Qingdao 266200, CHINA
Tel. +86-532-8172-1157
6

3B, BuildingC, BenQ Plaza, No.207, SongHong Road.
Changning District, Shanghai 200335, CHINA
Tel. +86-21-8012-9927

7

Vietnam Nisshin Seifun Co., Ltd

229/1, Road 15, Amata Industrial Park, Long Binh Ward,
Bien Hoa City, Dong Nai Province, VIETNAM
Tel. +84-251-8877-666

8

Vietnam Nisshin Technomic Co., Ltd.

Lot 517, Road 13, Long Binh Industrial Park (AMATA),
Long Binh Ward, Bien Hoa City, Dong Nai Province
Tel. +84-251-3686-123

9

PT. Indonesia Nisshin Technomic

Citylofts Sudirman #1206B, Jl. K.H. Mansyur No.121,
Jakarta 10220, INDONESIA
Tel. +62-21-2991-2818

10

ASO 1.O.S.B. Kazakistan Cad. No:6 06935 Sincan / Ankara,
TURKEY
Tel. +90-312-267-1800